[Back To Main Site Click Here - www.football-hooligan.com]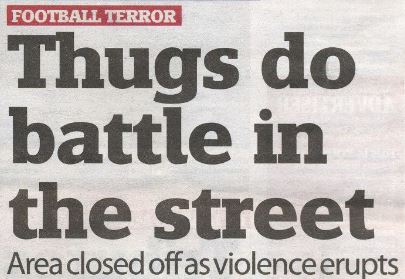 A collection of football hooligan articles covering football hooligan firms across britain. This page will be updated regulary bring all the latest football violence news from England, Wales and Scotland.
Football Hooligan News - Click On The Below Links
The hooligan problem and football violence that just won't go away
Increase in young football hooligans, say police

Football hooligans jailed after train station brawl
Football hooligans: Leicester and Coventry thugs riot
THE sight of violent football hooligans brought back memories of the dark days of terrace wars in the Seventies.
Hooligan jailed for Exeter City and Plymouth Argyle violence
Burnley 'Suicide Squad' hooligans jailed for 32 years over East Lancs derby clash
'Bring your bats... but don't bring your kids': Thugs planned West Ham v Millwall rampage on internet chatrooms
FA Cup Soured By Millwall Hooligans
Football hooligans banned from Euro 2012 competition

Man injured after football hooligans smash train window in Newark
Hamilton football hooligans avoid prison
Millwall & Newcastle violence: Who is to blame for football chaos
29 arrested as Newcastle fans clash with police after Sunderland defeat
'War zone' as riot squad barricades football hooligans in pub
Staff left shaken after pub trashed by hooligans
Violent Disorder By Newcastle United Fans In City Centre After Derby Defeat
Shrewsbury v Walsall violence: 17 appear in court
Football fans face court over violence at Shrewsbury Town match
Brazil Travel Ban for 225 West Midland Football Thugs
Cardiff police step up hunt for Bristol City hooligans
Football hooligans banned over pre-match violence
EDL founder Stephen Lennon guilty over football brawl
English Defence League founder convicted of leading street brawl
Far-Right youth leader is jailed over football brawl at station
Police looking to identify fans after football disorder at Bristol Rovers v Oxford United
Football hooliganism not about violence but about being part of group, says expert
Football hooligans invade Atherstone Town v Barrow FA Cup match
WATCH: Football hooligans tumble as escalator fails
Football thugs banned from matches for 43 years over battle at Glasgow Central Station in front of horrified families
Football hooligans banned after violence at Bristol Rovers and City derby
Bristol police crack down on football hooligans in series of dawn raids
Bristol City vs Bristol Rovers carnage: Court hears mass disorder at derby was some of the worst seen in Bristol
Four arrested for disorder related to Cambridge United clash with Luton Town FC
England and Scotland hooligans plan 'violent battles' for friendly, police claim
Everton appealing for information from supporters after Lille violence
Court Judge condemns Bristol Rovers 'hooligans' following pitch invasion
Watch 100 football hooligans take part in violent street brawl after Manchester derby
Football hooligans involved in mass Wolverhampton brawl banned from every stadium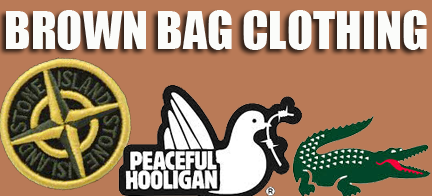 [Terrace Links - Number For Football Hooligan Links Site - www.terracelinks.info]

[The Casuals Directory- Online Football Casuals Resource For Terrace Wear - http:// www.thecasualsdirectory.com]