FOOTBALL HOOLIGANISM
What is Football Hooliganism?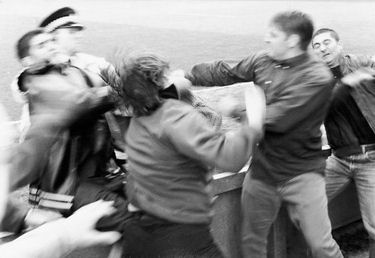 [Back To Main Site Click Here - www.football-hooligan.com]
"Hooliganism" is the term used broadly to describe disorderly, aggressive and often violent behaviour perpetrated by spectators at sporting events. In the UK, hooliganism is almost exclusively confined to football.
Disorderly behaviour has been common amongst football supporters since the birth of the sport, but it is only really since the 1960s that it began to be perceived as a serious problem.
In the 1980s, however, hooliganism became indelibly associated with English football supporters, following a series of major disturbances at home and abroad, which resulted in numerous deaths. Vigorous efforts by governments and the police since then have done much to reduce the scale of hooliganism.
However, it still persists, albeit in new forms. Today, in contrast to the more or less spontaneous upsurges of violence of the past, gangs of rival fans will frequently arrange to meet at specific locations, using mobile phones or the Internet, before and after matches to fight.
Furthermore, while England has the worst international reputation for hooliganism, a number of other countries have similar and growing problems. Today, the highest profile hooliganism problems tend to occur in relation to international matches and events.
In all these countries, some gangs of hooligans share other characteristics, interests and beliefs that incline them towards violent conduct, including links to far-right and racist organisations. Others, however, are apolitical, and are simply composed of men who enjoy fighting.
The term "hooligan" has a disputed derivation, but it is generally accepted to have begun to appear in London police reports in 1898 in relation to violent street gangs.
Background
Although football hooliganism only rose to widespread public attention in the 1960s, it had been with the sport since its earliest development. In the late 19th Century, concerns were frequently voiced about groups of "roughs" causing trouble at matches by attacking not only opposing supporters, but also players and referees. Many sociologists point to football's origins in working class Britain as a factor distinguishing it from the majority of sports popular today, and contributing to its links with aggressive and disorderly behaviour.
Although football became more "respectable" in the interwar period, and violence went into decline, levels of disorder and public concern about them rose sharply in the 1960s, in conjunction with a number of other moral panics, relating to new youth cultures and growing racial tensions. In this context, football stadiums rapidly became identified as public spaces where large scale threatening ritual displays and fights could be staged.
Gangs emerged staking their claims to certain "territories" within football grounds, and strong "tribal" loyalties grew up intermingling gang mentality and support for particular teams. The territorial factor is widely accepted to be the principal reason behind the particular rivalries between neighbouring teams and the susceptibility to violence of derby matches - although other local factors are prominent in some cities (eg sectarianism in Glasgow).
It should be noted that in the 1960s, football violence was considerably worse in many other European countries than in the UK: in the early 1960s, the Football League sought to pull English teams out of European competitions for fear of the threat posed by foreign fans. However, studies have shown that football violence outside the UK is largely a postwar phenomenon.
Throughout the 1960s and 1970s, football violence was largely confined to football stadiums, but the trend since then has been increasingly to move outside. In the 1990s, following the introduction of all-seater stadiums, in the wake of the Hillsborough disaster, nearly all large-scale football violence occurs outside stadiums.
A watershed in the history of English football hooliganism was the Heysel disaster of 1985, in which a "charge" by Liverpool fans at rival Juventus supporters caused a wall to collapse, resulting in 39 deaths. English teams were banned from European club competitions until 1990, and during this time, substantial efforts were made by the police to bring the problem under control. Simultaneously, considerable efforts were also made in the 1980s by football clubs themselves to eliminate racism amongst fans.
The Public Order Act 1986 permitted courts to ban supporters from grounds, while the Football Spectators Act 1989 provided for banning convicted hooligans from attending international matches. The Football (Disorder) Act 1999 changed this from a discretionary power of the courts to a duty to make orders. The Football Disorder Act 2000 abolished the distinction between domestic and international bans. The Football Offences Act 1991 created specific offences of throwing missiles onto pitches, participating in indecent or racist chanting and going onto the pitch without lawful authority.
Ironically, perhaps one of the most significant factors in reducing the problem of hooliganism has been the widening interest in the sport experienced in the 1990s and the influx of huge sums of money. At the same time, however, the influence of improved police technology and methods and a new unwillingness to tolerate hooliganism as "a bit of a laugh" have pushed it away from the mainstream and into its new, less overt forms.
Controversies
The excesses of football hooligans since the 1980s would lead few to defend it as "harmless fun" or a matter of "letting off steam" as it was frequently portrayed in the 1970s. Explanations for the phenomenon are wide and varied.
Moreover, while hooliganism has declined in overall scale, it continues to occur in new and sometimes more alarming forms. In April 2000, Christopher Loftus and Kevin Speight, two Leeds United supporters, were stabbed to death in Istanbul ahead of a UEFA Cup semi-final, in what the coroner's inquest described as "an organised ambush" by Turkish fans.
The extent to which large-scale hooliganism and rioting is now primarily an international phenomenon (and as the absence of crowd trouble at the 1996 World Cup in the USA would suggest, a European phenomenon) raises a new series of problems.
Frequently, incidents result in recriminations against local police forces, which are accused of targeting, provoking or otherwise mistreating foreign fans. The role of local police forces is evidenced by the lack of problems experienced during the Euro 2000 competition, which was co-hosted by the Netherlands and Belgium: the Dutch police, which has strong international links and a criminal intelligence service experienced in monitoring football violence, successfully contained those incidents that did occur in their territory, while the Belgian police fared far worse.
The influence of alcohol on football violence is also a disputed factor. In the past, when hooliganism was more "spontaneous", there was clear evidence that many of those involved were drunk. Efforts to ban alcohol from grounds and to monitor and control behaviour in pubs in the vicinity of grounds has had an impact on this sort of disorder. However, alcohol would appear to have little role to play in the "new" organised football violence.
The media is also invoked as contributing to football violence. Although reports are uniformly critical (apart from where blame may appear to lie with foreign fans or police), studies have suggested that the language of war and combat employed by the media in covering football reinforce the aggressive and confrontational perception of the sport. Headlines such as the Daily Mirror's "Achtung! Surrender!", printed ahead of England's match with Germany in June 1996, have been particularly criticised in this regard.
Statistics
The number of football-related arrests in England and Wales fell last season, according to Home Office figures.
In the 2008/09 campaign, police made a total of 3,752 arrests at domestic and international football matches, a fall of 2% on the season before.
On average there was 1.18 arrests per game, and the Home Office say 354 people were arrested for violence. In all, 956 football banning orders were issued during the 2008/09 season, with 37 million people attending games.
In the Premier League, champions Manchester United had the most fans arrested - 185 in total. Second was relegated Newcastle United with 144 arrests and third was Everton with 139.
Fulham had the fewest fans arrested with just 13.
Supporters of League One Leeds United topped the banning order list, with 162, ahead of Championship side Cardiff City (124) and League One outfit Millwall (110).
Fans were generally well-behaved abroad - more than 105,000 fans travelled to 49 games in European club competitions last season but only 30 were arrested.
Source: BBC Sport - 22nd December 2009
Over five million journeys a year are undertaken on the rail network by football fans alone.
In 2008/09 there were just 51 serious football related incidents, down from 63 the previous year.
However, there were another 538 reported incidents of anti-social behaviour which impacted on other passengers and rail staff, up from 337 the year before.
In the 2008/09 season BTP officers made 838 arrests, the highest to date, up from 601 the previous year.
Source: British Transport Police - 2010
Quotes
"Hooligans once blighted our national game but we now set an example for the rest of the world in how we police football matches. I am pleased with the way clubs and police work together but we must also praise fans for realising violence has no place in the modern game."
Home Office minister David Hanson - 22nd December 2009
"The vast majority of fans travelling to and from matches behave responsibly and cause no problems at all. However, there is a small minority that act in an anti-social way and an even smaller minority involved in violence."
"Successful football policing is a pro-active process depending on many factors. Chief amongst them are good intelligence, planning and co-operation between police, train operators, football clubs and supporters."
British Transport Police - 2010